06 Sep

Boynton Beach downtown hopes its $500 million makes huge splash
DOWNTOWN BOYNTON BEACH
Downtown Boynton Beach within a few years will no longer be an afterthought as a destination spot for retail, residences and restaurants.
In the shadow of the vibrant downtowns of West Palm Beach, Delray Beach and Boca Raton, Palm Beach County's third largest city is getting a $500 million makeover that is expected to finally transform Boynton.
This quadrant in the city's east end is poised to grow into a walkable downtown offering more than chain restaurants and rundown buildings, providing a reason to no longer speed down Boynton Beach Boulevard off Interstate 95 without stopping.
City Manager Lori LaVerriere called the building boom the city's "renaissance."
The first to get the transformation going is the 500 Ocean retail and residential building at Ocean Avenue and Federal Highway. To be complete by April's end are more than 300 apartments, retail space prime for restaurants, salons and shops and parking spots in a garage and on the street. LaVerriere credits developer Tom Hayden for jump-starting the renewal.
Other key projects that will all be within a walkable distance of one another include:
– Town Square, four blocks that will feature a new City Hall, library, playground, a new fire station, several parks, an amphitheater and parking garages. The historic high school will be a center for recreation and civic uses with space available to be rented out for events.
– Ocean One will bring more residential and retail space with future plans for a hotel.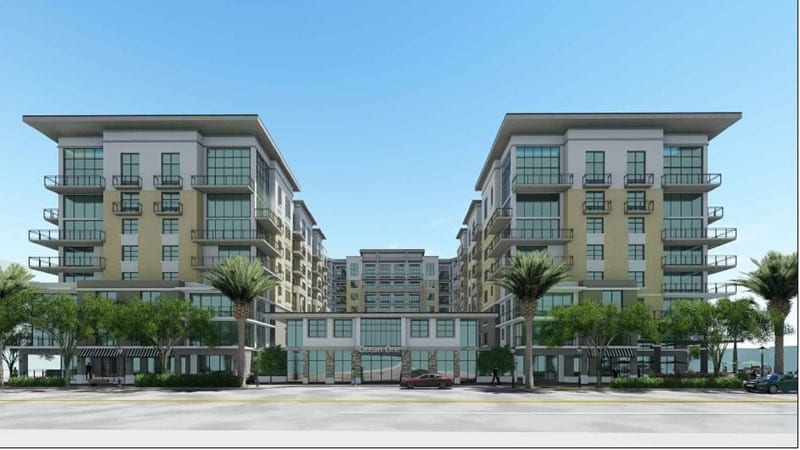 – The Villages at East Ocean Avenue will bring more homes and commercial space.
– Lastly, about one mile south is Riverwalk, a revitalization of an outdated plaza that will replace an empty Winn Dixie with a 10-story building of apartments.
>> EDITORIAL: Peninsula on the Intracoastal
All this sits between Interstate 95 and the Intracoastal Waterway, where the Boynton Harbor Marina already offers dining, water activities and high-rise living.
The new developments are "creating a buzz in the community," said Kelly Smallridge, CEO and president of the county's Business Development Board.
That buzz is vital. Without a hub of activity it is difficult to generate interest in the city. That's something that has hung over Boynton Beach for many decades. While  other areas in Palm Beach County have boomed with activity.
How it unfolded: Timing, price were pivotal 
Residents and business owners will have to deal with construction for the next couple of years, but once everything is complete, the city will be more vibrant.
"The choices are stay where we are and continue to degrade, or step it up and bring in redevelopment and a new day for the city," LaVerriere said.
City officials approved 500 Ocean about four years ago. Until then, development had been in Delray Beach and Boca Raton and then "leapfrogged over us" to West Palm Beach, Boynton Commissioner Joe Casello said.
Boynton's opportunity emerged through the smoke of the housing bust.
"We were there and so when land prices got out of control in those areas, Boynton Beach was the best value for your dollar. It was just a matter of time before this happened," he said.
>> READ: Boynton Beach 120 Million Dollar Town Square project
Casello said while developments can cause traffic and crowding, the incoming projects are all "smart development" that will help the city's tax base.
Boynton has kept the tax rate at 7.9 mills for about four years. Casello said an increased tax base will help keep that rate where it is.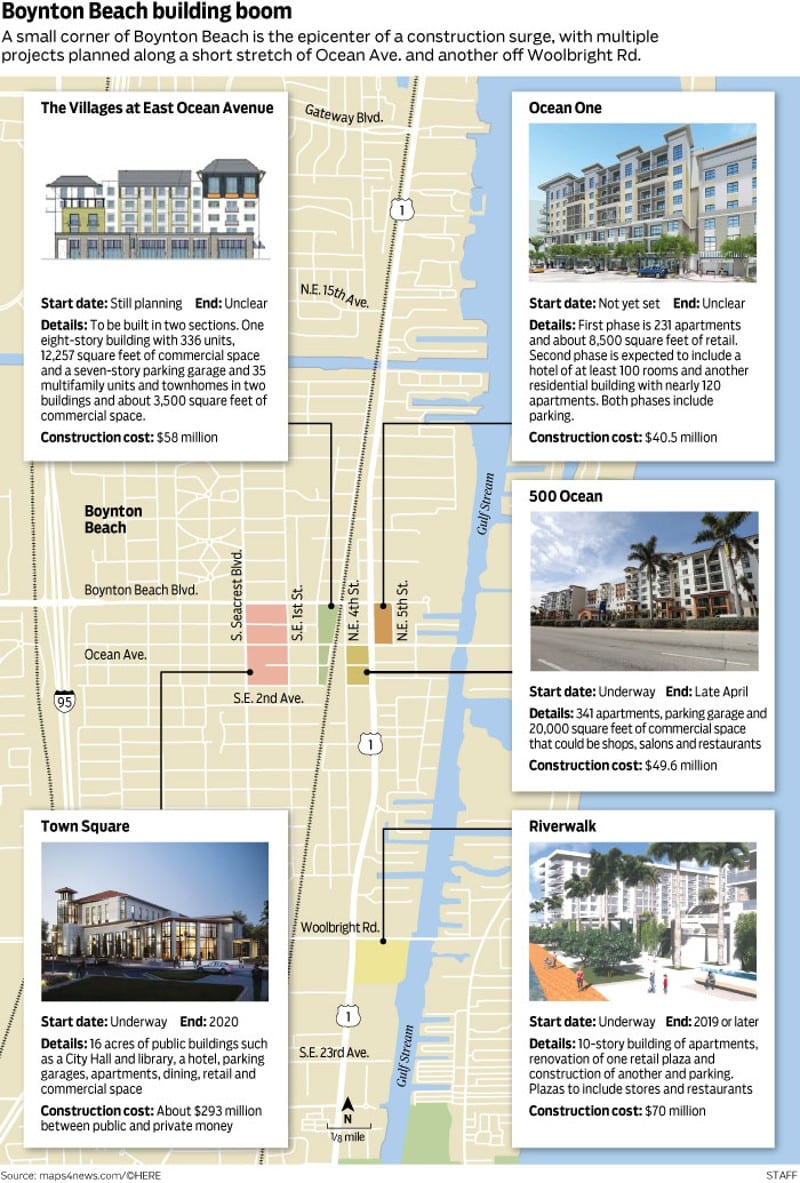 Residents have already made 500 Ocean their home.
As of last week about 90 units were occupied. Rents range from $1,454 to $2,355, a spokeswoman for the building said.
Inside the residential space is a mini-bowling alley, an arcade, poker and Foosball tables, complimentary WiFi, a private dining area, a small movie theater with a popcorn machine and plush chairs, outside zen gardens and expansive courtyards and a fitness studio. Each apartment has a washer and dryer.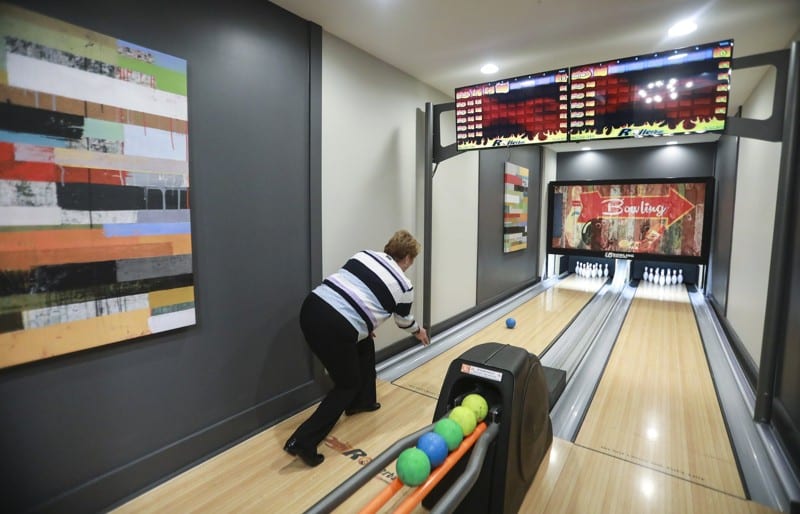 Some have views of the ocean. Each apartment has a balcony or if on the first level, access to walk out.
>> RELATED: Economic Trends: Florida annualized GDP hits $1 trillion
High-end hair and nail salons are planned for part of the retail space.
"When we looked at the site we saw Boynton Beach was under-served and after meeting with city staff we were really impressed with their vision for the city," said Hayden, the owner.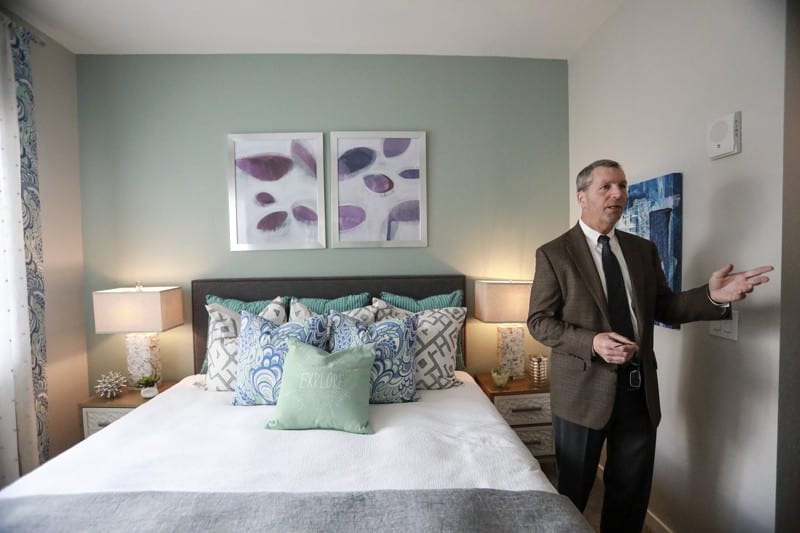 While on a tour of the property, LaVerriere described the building and amenities as "beautiful" and said "apartment living has really changed. It's come a long way."
The drawbacks: Parking, neighboring needs
Among the excitement are inevitable concerns.
Kim Kelly is worried about parking. She opened the Hurricane Alley restaurant on Ocean Avenue about 20 years ago and is watching the street transform. 500 Ocean is across from her. Even though the developers met the city's codes for parking, she doesn't think that's enough.
"I think it's great that it's finally coming to fruition," she said of the downtown. "But before that even happens, the No. 1 thing is parking, parking, parking. If you don't have the parking, then you're failed as a development."
Kelly wants a parking garage built near her store that could accommodate the developments, residents and restaurants. She said asking visitors to walk about three blocks from the planned parking garages at Town Square is too far.
Meanwhile, just a few blocks away the heart of Boynton lacks development and struggles financially. Commissioner Mack McCray supports the growth of the downtown, but shows his frustrations with the lack of improvement in this area. A Family Dollar at Seacrest and Martin Luther King Jr. boulevards about two years ago was the first commercial building to go up in at least 40 years.
The Community Redevelopment Agency is working to bring business and affordable living opportunities to Martin Luther King Jr. Boulevard and Ocean Breeze East, about 4.5 acres at Seacrest Boulevard.
Affordable living included in the incoming developments has been a main concern of Vice Mayor Christina Romelus.
The Town Square private developers have promised to include that with some rents priced around the $1,000/month mark.
"We're trying to set a precedent that you can have a nice downtown but that's also affordable and attract a variety of people of diverse incomes," Romelus said.
She pointed to the statistics of median home prices compared to median incomes. In the last quarter of 2017 the median home price in Palm Beach County was $255,000, a figure that includes houses and condos, and the median income was $67,900.
Romelus said the affordable housing options will provide opportunities for millennials, teachers, firefighters and those with similar occupations to work and also live in the city.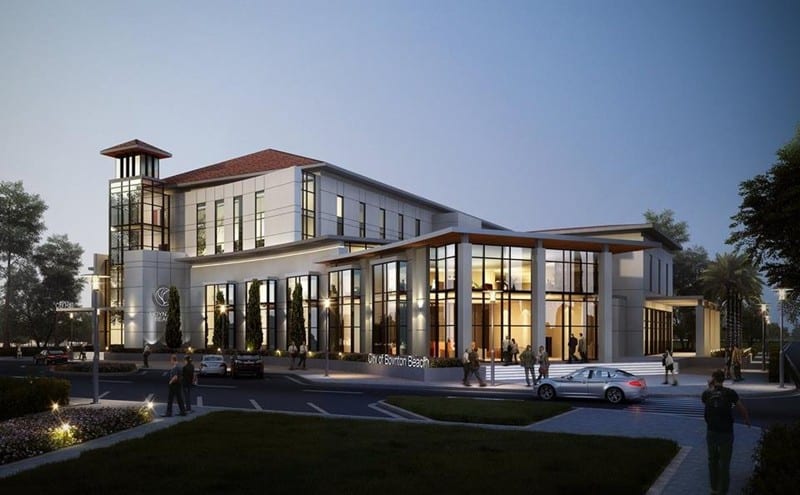 Town Square, a private/public partnership that officials gave the final approval to last month. It will cost the city about $118 million. Boynton will use money from a $76,117,844 tax-exempt bond and pay it back over about 25 years with money from the city and the CRA. The remaining $42,214,508 will come from sources including city and utility budgets, the CRA, federal tax credits and land value prices.
It will be the first time in decades that the public will be allowed to freely enter the historic high school building without wearing hazard masks. The development will bring an end to the city's leaky and outdated public buildings.
The public part of the project, the buildings previously mentioned, is expected to be completed before the private part. That part includes a 120-room hotel at Seacrest and Boynton Beach boulevards with 15,000 square feet of retail space and  13,800 square feet of restaurant space and about 700 residential units in three buildings.  —Buildings are up to eight, six and four stories each.
"We've worked very hard to make this realistic, to take a vision and make it reality. We're actually seeing it begin to start," LaVerriere said.